You are probably too familiar with the following scenario. You wake up at 6 am on a Monday morning, not really in the mood to make anything special for breakfast. So, you just grab a glass of almond milk or quickly make a peanut butter and jam sandwich before you rush out of the door.
A few hours later, while you're trying to kill your low blood sugar and hangry (hungry and angry!) mood with a muesli bar, you helplessly ponder if you are ever going to live up to the standard of getting up early to fix yourself a wholesome, plant-based and energy-boosting meal that will fuel you throughout the whole morning.
Now, first things first. You are not a failure if all you have is a peanut butter and jam sandwich. Sometimes, that is all you really need to get by and maintain as low stress levels as possible. Still, there is help to be found and it all really comes down to planning. Don't overdo it though. A simple plan is much better than a fancy, way too extensive and detailed plan that requires extra time, space, money and energy – all of which you'd wish you had more of!
You see, a healthy lifestyle is not about stressing to get a healthy lifestyle. A healthy lifestyle is about being flexible and planning ahead in order for your plan to become an integrated and natural part of your everyday life, so you can maintain that lifestyle.
So how to plan ahead? First, you've got to find out what to eat. I have included two basic, but delicious, healthy and filling recipes and ideas for breakfast. The idea is to present two base-meals that can be combined with whatever fruit, nuts, seeds or grains you have in your cupboard. It's not about being fancy and buying all kinds of exotic and expensive fruits or powders – it's about having a couple of simple and basic go-to's.
Recipe 1 : Banana Ice Cream.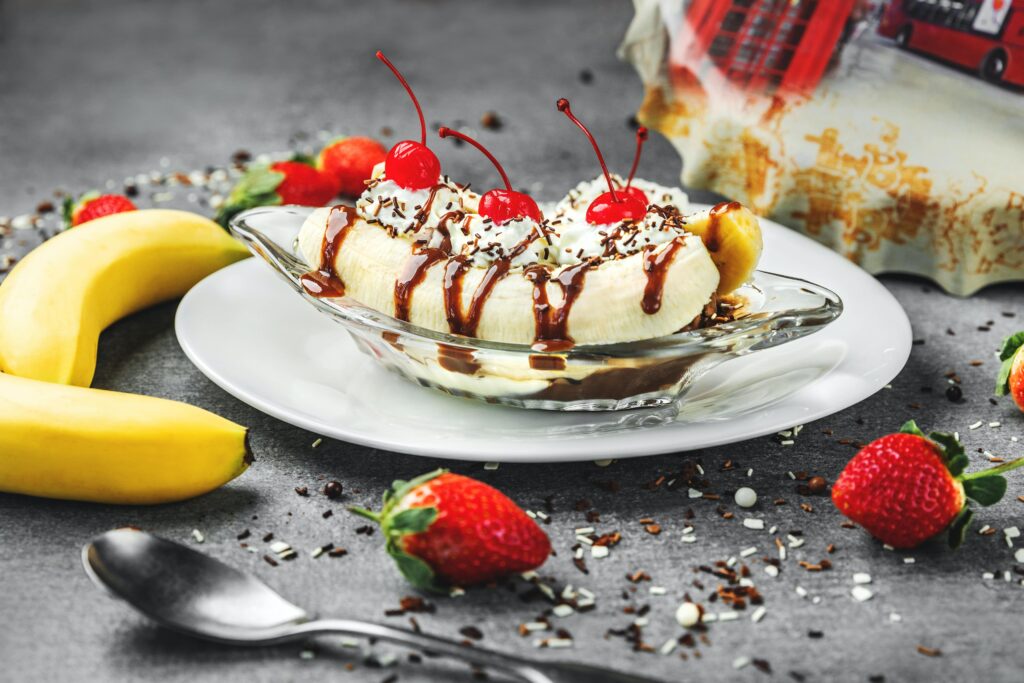 This recipe is my all-time favourite – I basically eat it every morning. Banana ice-cream – consisting of only frozen bananas. That's it. Now, you can combine this base with different frozen fruits, berries or even vegetable. But the most important thing is that you add some nut butter, seeds, oats or even silken tofu. This provides you with some healthy fats, proteins and fibre that will fill you up and stabilize your blood sugar. Here's the recipe for my favourite ice-cream combo: chocolate & coconut.
Ingredients
2-3 frozen bananas (freeze the ripe bananas the night before, only the spotty ones!)
half a ripe avocado (or sub with 1 tbsp. nut butter of choice)
3 soft dates
1 tbsp. cacao powder (or sub with carob powder)
½ – 1 cup coconut milk (or any plant based milk)
Instructions
Pour all the ingredients in a normal kitchen blender or a Vitamix
Blend until creamy and serve with your choice of fruits, more bananas, coconut flakes, granola and more nut butter – enjoy your dessert for breakfast!
Recipe 2 : "Berry-licious" Overnight Oats.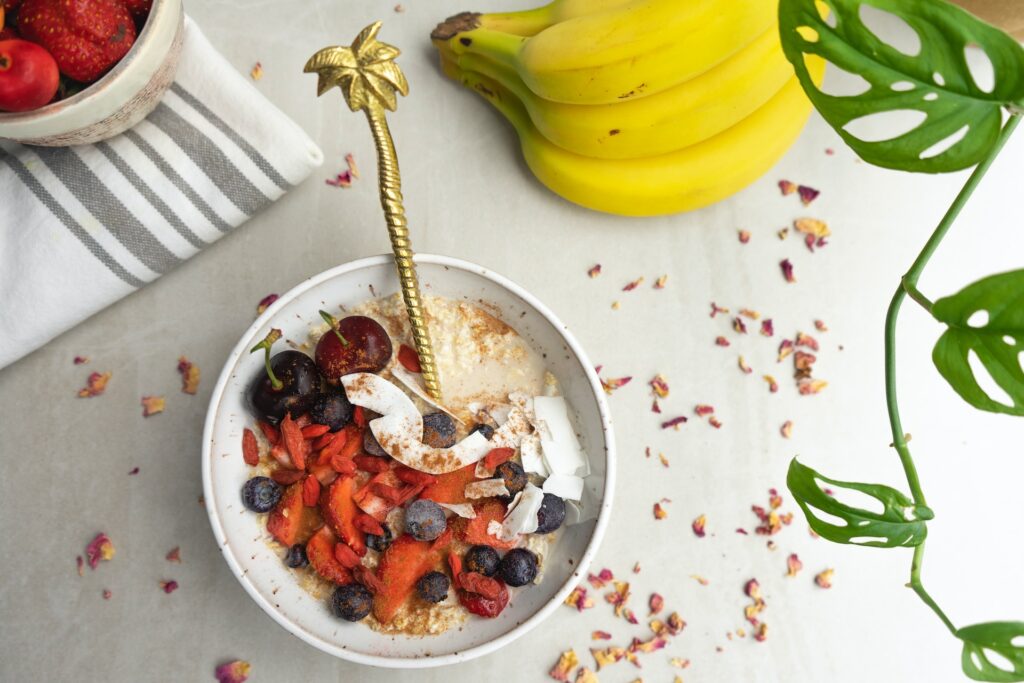 The thing about breakfast is that it takes time to prepare, at that exact time of day where time seems most scare. But why prepare it in the morning? Why not before? Like, the night before? That's what overnight oats is all about. It is one of the most simple base-meals, yet when made in the right way it is also one of the most tasty and satisfying. This version is called "Berry-licious overnight oats", but use your imagination! It's possible to use any additions to this base: cacao, carob, peanut butter, mango, melon..
Ingredients
½ cup fresh or frozen berries
1 ripe banana (sub with a few scoops of vegan yoghurt for extra protein)
½-1 cups oats (depending on desired portion size)
1-2 soft dates
½-1 cup plant based milk (depending on how creamy/firm you want it)
1 tbsp. nut butter/1 tbsp. seeds
Instructions
Mash the banana, berries and dates
Combine with the rest of the ingredients, cover and leave in the fridge overnight
the next day: pour the oats into a bowl, add a splash of milk, top with more berries, nut butter, granola and enjoy!
Breakfast really is the most important meal of the day. God has promised to be with us until the end of the world, and he wants us to be happy – every day. He knows that we as his children need nourishment in order to make it through the day.
He is interested in even the smallest details that aid our well-being. You could basically say that He is interested in your breakfast!
With these simple basics I hope that you are able to rise on that Monday morning – with a smile on your face and peace in your heart, knowing that a healthy and stress-free breakfast
is waiting for you in the kitchen; to be served in less than ten minutes.
---
Silje is 23 years old and originally from Denmark, but since last summer has been living and studying in the wonderful city of Bergen, Norway. Developing healthy, tasty plant-based recipes is her hobby and she's especially passionate about the close connection between lifestyle choices and mental health.